Methods & Tools
Here you will find content and templates to support your start-up project. For a quick overview and better orientation, we have divided our "Methods and Tools" according to the usual phases of a start-up. Are you currently in the process of brainstorming? Are you racking your brains over the various forms of business? Here you will find answers to your problems and questions!
In addition, you can of course contact us directly in order to find a targeted solution with our help. Use our consultation form or simply get in touch with our team.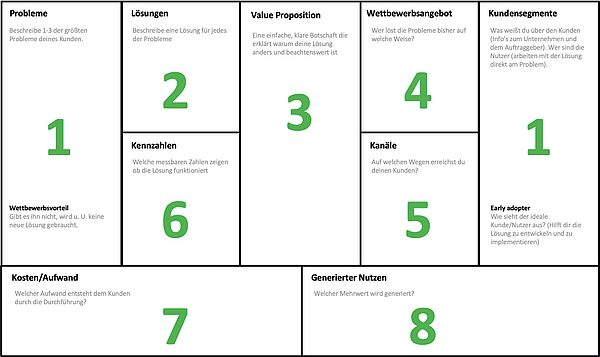 The Lean Canvas is a one-page business plan that focuses on the customer and his problems. As a founder, the Lean Canvas gives you the opportunity to take an initial look at your business idea from the market, product and financial sides. At the same time, you can use the model to give third parties a quick overview of your idea. We use the Lean Canvas again and again in our start-up consulting. The model can be applied not only once, but several times. On your way you will most likely notice several changes in your idea. The Lean Canvas helps to capture and document this progress. Just download and fill it out - have fun! Of course, if you have any questions, you are always welcome to contact the Startup Services team.
You can also learn more about the Lean Canvas model in our blog "Lese&Gründe" - Have a read!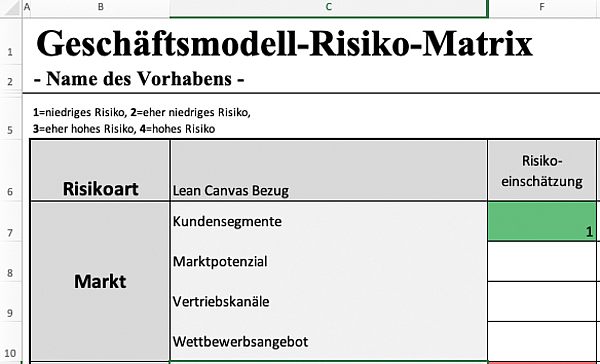 The risk matrix is a tool for evaluating the individual dimensions of your business model. Furthermore, based on this assessment, you can identify urgent needs for action and derive next steps.
The Risk Matrix is intended as a supplement to the Lean Canvas. The Lean Canvas represents the current state and the Risk Matrix defines the next steps for the future. Using both models alternately allows you to make controlled and well-founded progress and to document the further development of your business idea.
Our tip: Download this matrix together with the Lean Canvas. This way you can work on both in parallel.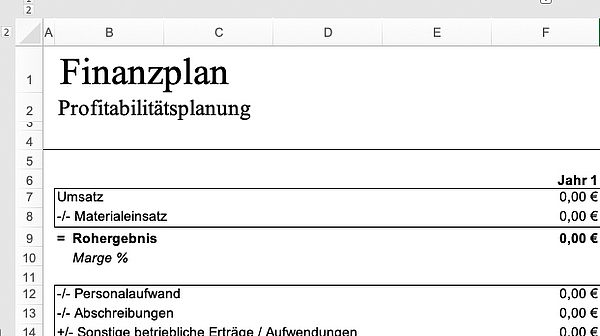 The financial plan is an essential component of a business plan. We provide you with a download version that contains the core instruments "financing planning", "profitability planning" and "liquidity planning". In addition, entrepreneurial wages, personnel costs, depreciation and loans are taken into account.
The file is mostly self-explanatory. We have created a flow chart in the file for you. In addition, each individual worksheet has its own explanation. Furthermore, the team of the foundation service is at your disposal for all further questions. So fill out the file and ask us your questions!